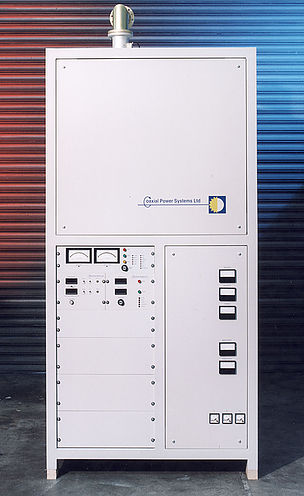 Coaxial Power Systems Ltd was established in the UK in 1995.
It now enjoys a worldwide customer base. We pride ourselves on customer service and our equipment has gained an enviable reputation for long service life and reliability.
We are a long-standing member of 'TWI' (The welding institute) and work closely with them on specialist projects.
Coaxial Power System's (CPS) product range includes RF generators, automatic impedance matching networks, manual impedance matching networks and ancillary equipment.
Our experience and expertise in RF and plasma applications, and our commitment to customer service has allowed CPS to work towards lowering the cost of systems for its customers.  We are constantly reviewing our components and build practises.
The dedicated sales and technical support staff are available to discuss your next RF project, or to help with training, installation or support for any CPS product.

Over 20 years of focus on RF technology and evolving our core products.
Proven products that focus on 'solid state', reliable compact design.
Unrivalled 'Custom RF product' facility with Industry-specific expertise built into every solution.
Unmatched 'Core RF Product' design/function flexibility.
Fast-response service and support on a global scale.
Frequencies available include : 2MHz, 13.56MHz, 27.12MHz, 40.68MHz, 84MHz and 380KHz.
RF power output's include variation between as low as 50 Watts up to 10000 Watts . 
Please do not hesitate to contact us about higher power systems.
CPS have been manufacturing high-quality and reliable RF products for over 20 years.